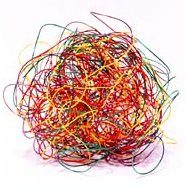 Wire Harness
One of the primary areas for our own internal production is the manufacturing of wire harnesses. By assembling the complete harness beforehand, overall manufacturing time is saved.

The harnesses can be made up of any number of wires, lengths or colours. Depending on the application, special terminations can be incorporated into the finished assembly.

For your convenience, we now accept Interac, Visa and MasterCard in-house.
---
Whether stranded, single or multiple conductor wire, we have the knowledge and experience to meet all your OEM wiring and cabling needs.

Continuous quality control checks ensure you receive a superior product each and every time.

Need a specific wire or cable for your production? We can source hard-to-find wire either locally or from around the world.

Do you need specially prepared harnesses for your applications? With our in-house CAD services, we can produce drawings and diagrams that will make your harness larger than life.

Are you looking for special crimped ends or ferruls? Automated in-house machines make it possible to crimp virtually any terminal onto the stripped wire.
Maybe all you want is some pre-stripped lengths of wire. We can prepare the wires for you to take care of the crimping yourself.

As a manufacturer of our own wire sets and harnesses, we are uniquely aware of the demands necessary for a quality product. Attention to detail and manufacturing quality are cornerstones that we have built our business on.

Whether you're a small business or large corporation, we can provide you with any guage, length, type and quantity of wire, from one simple wire, through to an endless supply of complex harnesses.

Call today, and let us solve your wiring needs.